Do you need a reminder whenever there's a Ekadashi Vrat?
I've got a little story to share with you today, one that involves my dear mom and a clever tech solution I came up with.
You see, in our family, we follow a tradition of fasting on Ekadashi, which falls on the 11th day of every lunar fortnight. It's a special day for spiritual observance, and one of the key rules is avoiding rice.
Now, this might not sound like a big deal, but for my mom, it used to be a challenge because she'd often forget the date.
So, there she was, occasionally missing Ekadashi vrat (fast) because it was tough to keep track of. You can imagine how disappointed she'd feel. That's when I decided it was time to bring technology into the picture and help her out.
I wanted to create something simple, efficient, and accessible, and that's when I came up with the idea of using a calendar to send her a reminder. And guess what? It worked like a charm!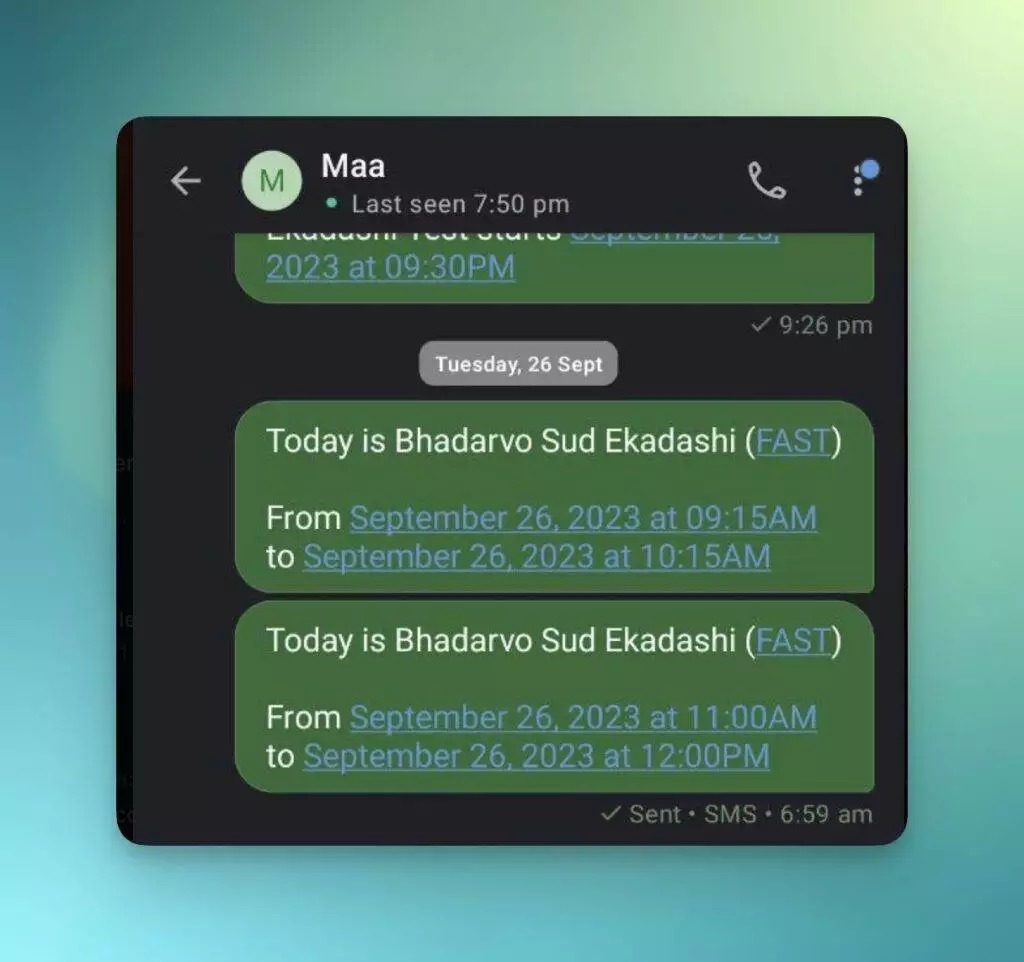 Now, the amazing part is that I didn't just stop at SMS reminders; I made it even more versatile. Here's how it works:
1. SMS Reminders: A day before Ekadashi, my mom receives a friendly SMS reminder on her phone, telling her to prepare for the fast.
2. Email Notifications: For those who prefer emails, I set it up so that you can receive an email reminder instead. It's all about making it convenient for you.
3. Telegram Messages: If you're part of the Telegram community, no worries! You can get your Ekadashi vrat reminder there too. It's all about flexibility.
I know what you're thinking, and yes, I'm more than happy to help you set this up for yourself or anyone in your family.
Whether you want reminders via SMS, email, or Telegram, I've got you covered. Just drop me a message, and we'll make sure you never miss an Ekadashi vrat again.
It's all about blending tradition with technology to make our lives easier and more meaningful. So, here's to never forgetting Ekadashi and keeping our spiritual journeys on track! 🙏✨
⚙️ Want to Automate your Boring Task ?
Imagine a world where your repetitive, mundane tasks are automated, freeing up your valuable time for what truly matters—growing your business.
My automation solutions are here to make that vision a reality.
SAVE YOUR TIME • AVOID REPETITIVE TASK • ⚡ AI Powered
Feel free to reach out to me if you'd like to set up this handy reminder system.
Until next time, happy fasting!