Compressing images is a crucial step in optimizing your website's performance. It reduces the size of your image files, which in turn decreases the page load time and improves the overall user experience. However, compressing images one by one can be a time-consuming task, especially if you have a large number of images on your WordPress site. That's where bulkresizephotos.com comes in handy.
I recently came across, a free online tool that allows you to compress multiple images at once. With this tool, you can easily reduce the size of your images without compromising on quality.
The best part is that it's completely free to use, and you don't need to download any software or plugins to get started.
Why Compress WordPress Images?
After managing many WordPress websites, I understand the importance of optimizing my website for speed and performance. One of the most important aspects of website optimization is image compression.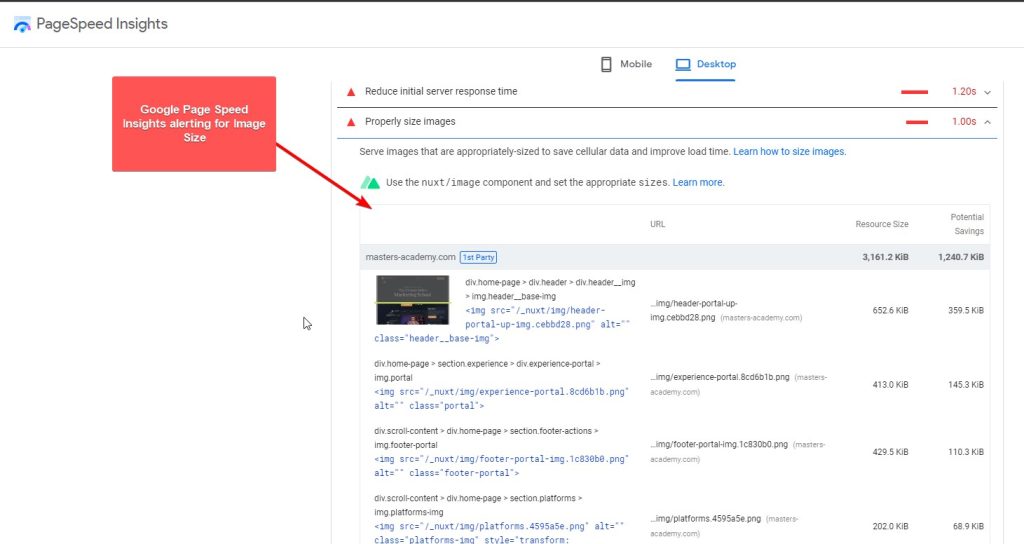 Benefits of Compressing Images
Reduced File Size
Images are an integral part of any website, but they can also be one of the biggest contributors to slow loading times. Large image files can take longer to load, which can negatively impact user experience and search engine rankings. By compressing images, you can reduce their file size without sacrificing quality, resulting in faster loading times and a better user experience.
If you're an agency owner managing multiple websites, then I have documented everything you require to manage your client websites – Read the Complete List here
Improved Website Speed
Website speed is a crucial factor in user experience and search engine rankings. Compressing images can significantly improve website speed, as smaller image files load faster. This can lead to a better user experience, increased engagement, and improved search engine rankings.
Reduced Bandwidth Usage
Compressing images can also help reduce bandwidth usage, which can be beneficial for website owners who have limited bandwidth or are on a shared hosting plan. By reducing the size of images, you can reduce the amount of data that needs to be transferred, resulting in lower bandwidth usage and potentially lower hosting costs.
Better SEO
Search engines like Google consider website speed as a ranking factor. A faster website can lead to better search engine rankings, resulting in more traffic and potential customers. Compressing images can significantly improve website speed, which can have a positive impact on your search engine rankings.
Personalised WordPress Hosting for Agencies
Are you Spending hours:
Managing your WordPress website?
Troubleshooting technical difficulties?
Dealing with plugin security issues?
Keep up with frequent updates?
Cleaning Hacked Sites?
Let me take care of your WordPress website, so you can focus on scaling your agency.
Give your clients top-notch VPS Hosting for blazing fast performance, 24×7 security monitoring with autopilot safe plugin updates.
I will help you free up time and energy by managing the technical details of yours WordPress website.
COMPLETE PEACE OF MIND • FREE WEBSITE MIGRATIONS • NO-LOCKINS
How to Compress WordPress Images in Bulk for Free
Now it's time for some action and let's optimize our images.
Visiting Bulk Resize Photos Website
The first step is to visit the Bulk Resize Photos website. It is a free online tool that allows you to compress images in bulk without compromising on quality. The website is user-friendly and easy to navigate, making the process of compressing images a breeze.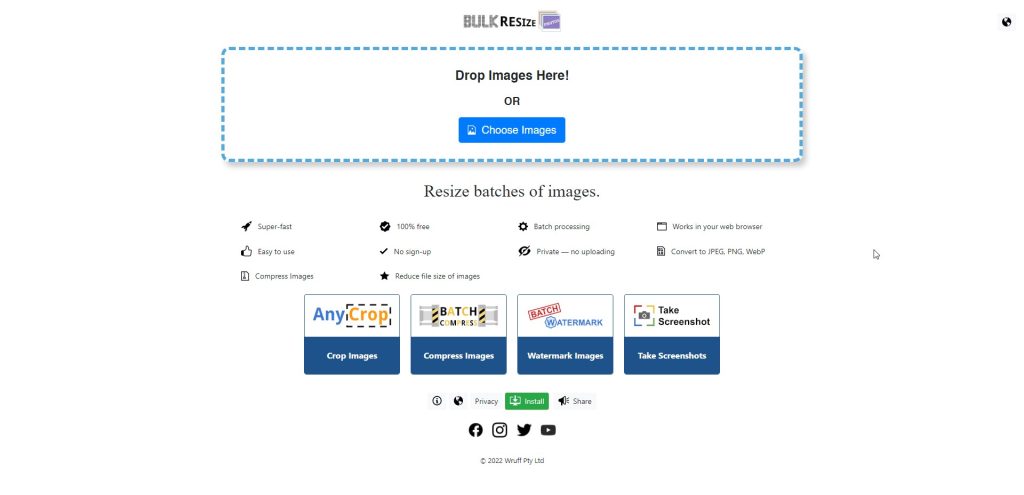 Uploading Photos to Bulkresizephotos.com (Everything Happens Locally)
Once you are on the website, click on the Choose Image button. You can select multiple images at once, and the website will upload them. You can also drag and drop your images on this website.
The best part is that everything happens locally, which means that your images are not uploaded to any server. The website uses your computer's processing power to compress the images, ensuring that your data is safe and secure.
Downloading the Zip File of Compressed Images
After the images are uploaded, you can select the compression level and image format. And various other settings. Normally, I go with Percentage % based compressions so that I don't apply a fixed same value for multiple image sizes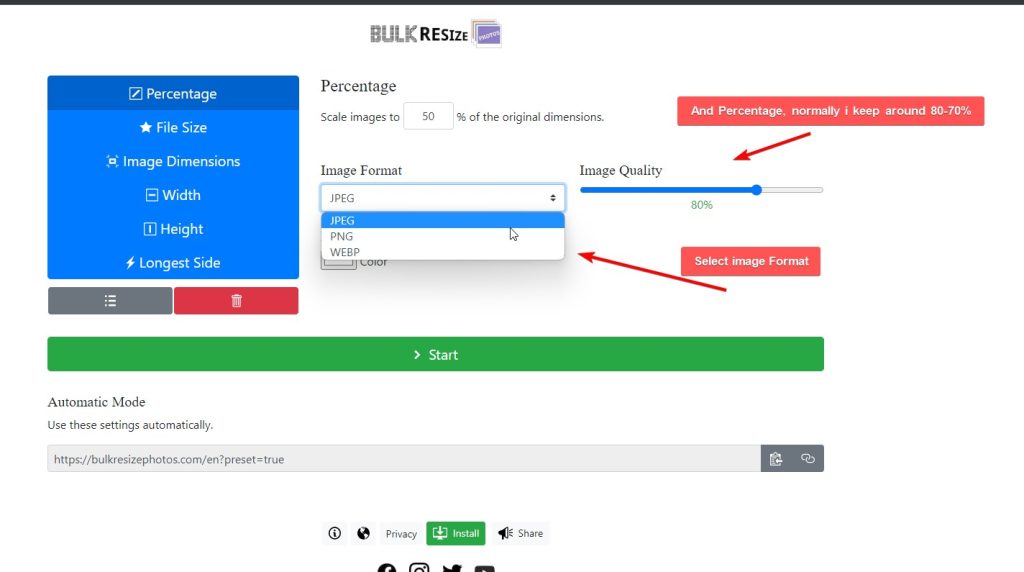 Once you have made your selection, click on the Start button. The website will compress the images, and you can download the zip file containing the compressed images.
And from WordPress 5.8 supports uploading WebP format, which can be beneficial in improving website loading times, in addition to optimizing image compression. Uploading images in WebP format can reduce file size while maintaining image quality, leading to faster website loading times. – You can learn more on WebP from here.
TIPS: A helpful tip for optimizing your setup is to save the URL under the "Automatic mode" heading once you've found the best configuration for you. This way, you can easily revisit the page with that URL and compress your content using the mode you've assigned, without having to manually adjust the settings each time.
Uploading the Optimized Size Images to WordPress Media Library
The final step is to upload the compressed images to your WordPress site. You can do this by navigating to the "Media" section in your WordPress dashboard and clicking on "Add New." Select the compressed images from your computer and upload them to your website.

Make sure to unzip the images and upload them individually by drag-and-drop or selecting all the image files.
I share my Learnings & Case studies via email.
Subscribe to Stay Updated
Why Use This in Place of Paid WordPress Image Optimization Plugins?
There are many paid WordPress image optimization plugins available in the market, but why spend money when you can compress your images for free?
Unlike paid plugins, you don't have to upload your files to any 3rd party server, and you don't have to perform any tasks on your local WordPress server and create timeouts, here everything happens locally on your browser.
Using bulkresizephotos.com is a faster and more efficient way to optimize your images. It takes just a few seconds to compress hundreds of images, whereas plugins can take hours to perform the same task.
Moreover, paid plugins can be expensive, and they may not be suitable for everyone. If you're just starting with your website, you may not have the budget to spend on a plugin. Bulkresizephotos.com is a free alternative that provides the same results.